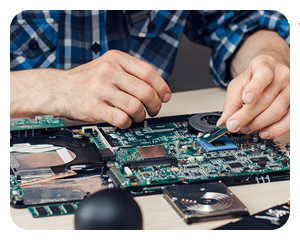 Your PC, Like Brand New
Is your computer acting up? Apps crashing? Or is it simply refusing to come up? There are few things as frustrating as your computer acting up or refusing to do what you ask of it. Unfortunately, this always happens at the worst times –when you have a project deadline or are preparing for an important presentation!
Let us help.
We understand that in this modern world, our computers are like extensions of our arms, and if you run a small business, your IT needs to be dependable. When disaster strikes, you need to get your business back on track immediately. This is where we come in.
We offer professional on-site repairs on both Desktop and Laptop computers. We will inspect your computer and give it a thorough diagnostic to give you an accurate FREE estimate.
We try to complete most on-site repairs in 3 hours. Any repair taking longer than 3 hours our technicians may request to take your computer back to our shop for repair. Most in-shop repairs are completed within 24-48 hours unless a part(s) needs to be ordered to complete the repair. We will always keep you informed of any delays and how long it will take to professionally repair your computer.
At Custom Computer Design & Repair, we are passionate about providing you with a premium computer support servicethat will give you peace of mind –always. Our well-qualified, highly experienced technicians and staff are your first line of defense to your computer or IT related problems – anywhere in Brevard County!